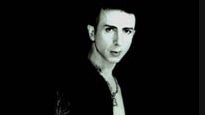 'Turn the spotlight down! I don't like the f***ing light right in my face!'
After what was a reportedly disastrous gig in Birmingham last weekend, Marc Almond came to London last night at the Indigo venue at the O2 dome. I noticed on the T-shirts of the Indigo staff that the word indigo was suffixed by a 2, which led to me wonder if they chose the name of that side venue just because it has an 'o' at the end, and if so, did they reject 'dingo' and 'flamingo' before choosing a word that almost describes the colour of their logo.
... oh, the colour thing, yeah. That's probably why.
So, Marc's a bit spiky to start off with. He apologises to the audience for being a bit late. 'I got watching the X Factor semi-final,' he explains. 'Oh Rhydian. What IS he? If I were his mentor I'd have him doing "Tomorrow Belongs to Me"!' Later, the guy handling the spotlight gets a tongue-lashing, leading to the next song being performed in near-darkness. 'Okay,' Marc concedes, 'Perhaps I could do with a
little
more light.
He's doing well for a 50-year-old guy who's still living with the after-effects of a near-fatal motorbike accident. He stumbles with a few lyrics and part-way through 'Tears Run Rings' he rushes offstage in some distress. The band play on for a while, winging it, until they realise something might be wrong and they bring the song to a close. There's a pregnant pause before Marc returns to the stage. 'I've been ill all week and that was just waiting to happen all day,' he says, leaving us tactfully unaware what 'that' was. But in case we feel we're catching a fading star here, he repeats a trick he's been doing for his gigs this year - a breakneck-speed rendition of 'Jackie' that's word-perfect and leaves his younger pianist struggling to keep up with him.
'I'm warming up now - you can put the lights back on,' he laughs.
He points to his violinist and remarks that they've been playing together for 26 years, plays a lot of songs from the album he co-write with former Sigue Sigue Sputniker Neil X, his guitarist, and, as he closes the show, thanks everyone behind the scenes by name, including the super-trooper-wranger, who gets an apology for his earlier crabbiness.
'He's doing one more album and one last tour, then that's it,' my companion tells me. Marc's already admitted that he no longer has it in him to write new material, since the accident, which is a tragedy for a man who's been so prolific. he still has an ardent fanbase who'll follow him into his dotage, but many of them suspect he doesn't want to become a tragic disappointment. This is Marc Almond, and throughout the gig, many of his fans chose quiet moments to shout 'We love you, Marc.'
Apparently, during the birmingham gig (at a venue that left the impression Marc was singing in a small back-street bar), someone shouted 'SOOOOFT CEEEELLLL' and was roundly told to f*** off by the audience. Someone else then shouted 'Days of Pearly Spencer!' at which point Marc said 'Hold on, I'm not a f***ing jukebox!'
I saw him for his birthday gig - and his comeback after the crash - earlier this year, which was an emotional experience to say the least. It was also a better gig and I really appreciate how special that night was for everyone in the room - not least Marc himself. But seeing him not at his best, a little cranky, a bit bitchy and always self-deprecating just leaves the impression that I saw a more real, more honest Marc last night. I have no way of ever catching up with all his recordings, but he's someone I find fascinating. From his early days in Soft Cell appearing on
Top of the Pops
miming melodramatically to 'Tainted Love', where the next day everyone in school was saying 'what WAS that?' to his subtext-heavy number one duet with Gene Pitney in 1989, his album after album of heartbreak that might have been invisible to the chart-buying public but built a back catalogue that most true musicians would envy, including his Russian folk album and his most recent release of covers, he has
never
been boring.
And that's all we can ever hope for of our idols.